TRUSTED AUSTRALIAN
AWARD WINNING BUILDER
---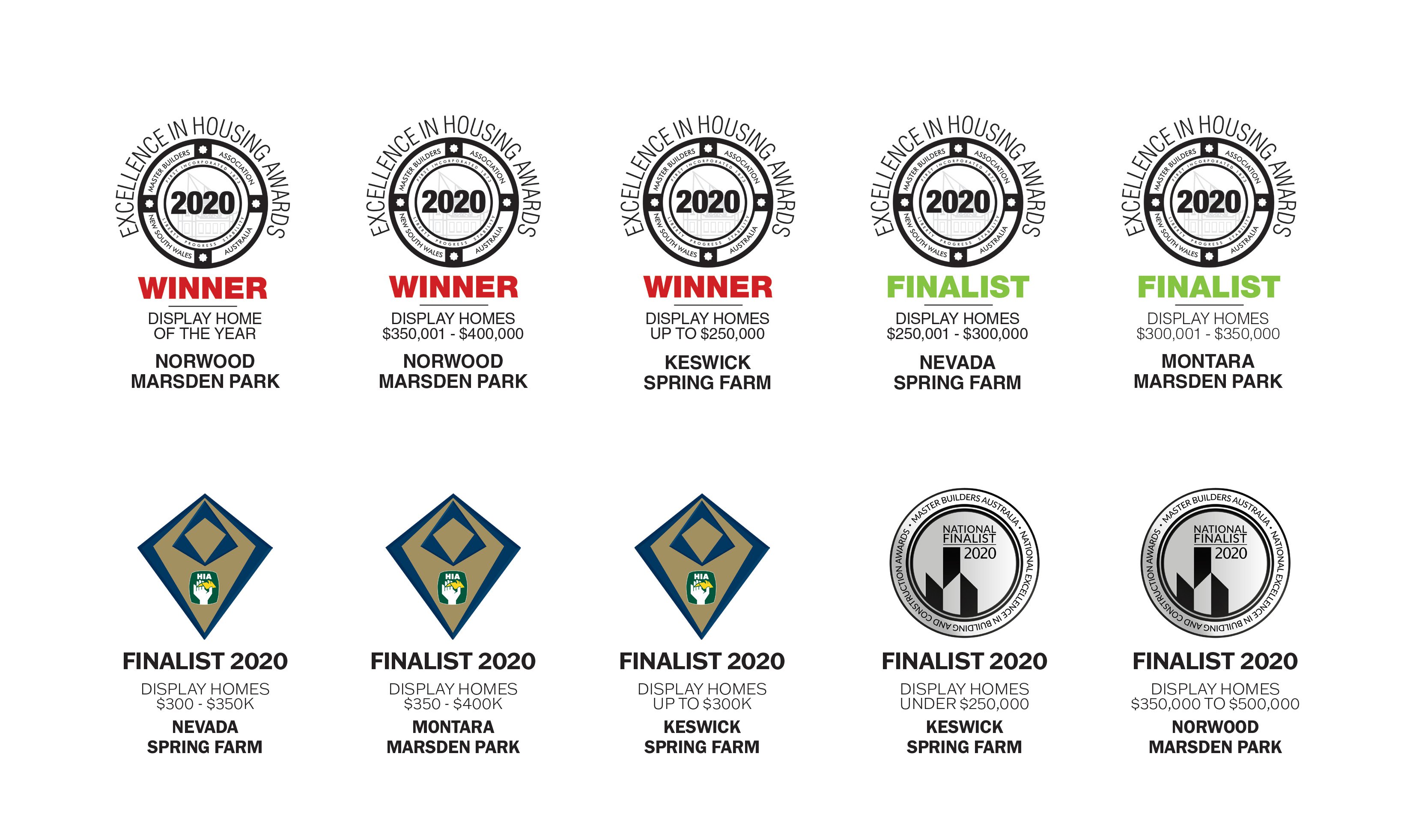 The Norwood Wins the Display Home of the Year Master Builder Association Excellence in Housing Awards
On Friday 9th October 2020, Firstyle Homes was immensely proud of winning the prestigious Master Builder Association Excellence in Housing Awards. This acknowledgement is a real testament to our continued commitment to excellence in housing innovation, customer service, workmanship, and services to the NSW region residential housing industry. Being the winner of this NSW award in an increasingly competitive housing industry cements our business's ability to implement continuous innovation, improvements, and business practices to achieve our goals of building quality, affordable and beautiful homes for our valued customers.
Additionally, Firstyle Homes were successful in winning the Display Homes $350,001 - $400,000 category with the Norwood as well Display Homes up to $250,000 price category with our popular single storey the Keswick. We were finalist with our single storey the Nevada on Display Homes $250,001 - $300,000 and the double storey Montara on Display Homes $300,001 - $350,000.
We become finalists for HIA 2020 with the Nevada, Montara and Keswick as well in different prize categories.
With a record number of entries in these awards this year and the winning results, we believe Firstyle Homes have every reason to celebrate all the achievements.
Previous Awards
2016 HILLS BUILDING & DESIGN AWARDS FINALIST
RESIDENTIAL PROJECT/EXHIBITION HOMES UP TO $500,000 GRANTHAM 43.5
2016 HIA-CSR NSW HOUSING AND KITCHEN & BATHROOM AWARDS FINALIST
DISPLAY HOME UP TO $250,000 KESWICK 24
DISPLAY HOME $350,001 - $400,000 WATERHOUSE 34

2015 HIA-CSR NSW HOUSING AND KITCHEN & BATHROOM AWARDS FINALIST
BATHROOM BRIGHTON 30.7 & KITCHEN MONASH 39.8
DISPLAY HOME $400,001 - $500,000 GRANTHAM 43.5

2014 HIA-CSR NSW HOUSING AND KITCHEN & BATHROOM AWARDS FINALIST
READERS CHOICE AWARD RIVERSIDE
DISPLAY HOME $250,001 - $300,000 RIVERSIDE